Course details
【All-you-can-drink plan only】 2 hours 1500 yen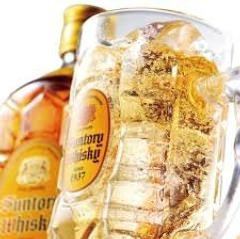 By using a coupon1500yen
(Tax included) We have received 380 yen per person as a surcharge.
All-you-can-drink available

[Menu-you-can-drink]
Reservation deadline

Coming to the store until the day 15 of the desired date
Available days for reservation

Monday - Sunday - Public holidays - Holidays
After all I want to eat something I like! It's for those people like that.
Course menu
※ You can extend the drink all you can for 30 minutes by plus 500 yen per person.We accept grade up for all you can drink at plus 500 yen.※ We will exchange with free glasses so we ask for cooperation so that we can drink as much as possible.※ The contents of all you can drink will be equivalent to 1500 yen.
※ This plan requires an order of 380 yen per person, two items per person.
All-you-can-drink menu
·【Sake】
· 5 kinds of Japanese sake daily
·【beer】
· <Raw> Giraffe's best squeezing
· [Sake High]
· Oolong Hi / Lemon Sour / Green Tea High / Grapefruit Sour
· 【Fruit wine】
· Fukayama Grape / Futolobe Pine / Northern Ranch Yogurt
·【wine】
· <White> Pay-dog · Blanc (French origin: dry) / <Red> Pay-dock Rouge (French origin: medium body)
·【Whisky】
· White horse (high ball / ginger high ball / cola high ball)
· [Shochu]
· Black Kirishima (potato) / Chubu (wheat) ※ How to drink to the staff
·【Cocktail】
· «Cassis» Cassis Orange / Cassis Grapefruit / Cassis Soda / Cassis Oolong «Lychee» Litchie / Lychees Orange / Lychee Grapefruit «Peach» Peach Oolong / Fuzzy Navel / Peach Fizz / Peach Grapefruit
·【Soft drink】
· Cola / Gingeraire / Oolong tea / Orange juice / Grapefruit juice
· ★ premium all-you-can-drink ★
· = == + 500 yen If you do, the following drinks will be added ◎ ===
· ★ 【Japanese sake】
· «Yamanashi Ninoyu · Yamanashi Prefecture» Shigenori Furu Miyama Junmai Sake «Kitano Brewery · Nagano Prefecture» Beihaan Daoxing Net America Hidehiko «Takayoshi Sake Brewery · Niigata Prefecture» Takachiyo Tsuchiyaku Rice +19 «Saaya Brewery Shop · Akita prefecture »Snow cherry mountain abandoned rice liquor« Shirataki Sake brewery · Niigata »Uonuma Dry exclusive rice wine« Fukumitsuya · Ishikawa prefecture »Kaga 鳶 extremely cold charged pure rice spicy
· ★ 【Japanese sake】
· «Fukumitsu · Ishikawa prefecture» Kaga 鳶 Jun rice sho «Nakao brewing · Hiroshima prefecture» Takashi Mirror Rice rice Takehara «Hane Genkai Shuzo · Yamagata prefecture» umaki plum sludge grapes pure ginseng «Okinomiyoshi Kubo main store · Fukui prefecture» Trading "rice "Jun rice« Major Brewery Residence · Wakayama Prefecture »Black Beef Net Rice« Black Dragon Brewery · Fukui Prefecture »Black Dragon Kuzuryu Jun rice
· ★ 【Shochu High】
· Umeboshi Sour
· ★ 【Specialty Fruit Liquor】
Yoshino Monogatari
· ★ [whiskey]
· White Horse (Tonic Hi Ball) / Angle High Ball / Joni Black High Ball
· ★ 【Cocktail】
· «Jin» Gin Tonic / Gin Grapefruit
Coupons that can be used with this course
2018/07/10 update